Sonya Machorska
I was strolling along the pier near the Danube, when the air was swaying slightly and everything was filled with the smell of spring, of silt, of man … Like any spring, this one happened.
My senses have tensed, excitement has spilled all over my body, and I seemed to be wobbling away. I leaned against the railing of that strange three-story beach at Baba Vida and stared at the golden glimpses of the water, remembering so many faces, thoughts and feelings! … I looked and saw you again – tall and a little clumsy, but with huge hands that could carry me wherever I wanted … And now, as then, I carried chocolate in my bag – a little brown bitter bitter chocolate that I worshiped. Why? I don't know, but it still is today.
I was leaning against the railing so as not to fly away from you and the energy that filled me from head to toe … A piece of chocolate just seemed remind yourself – I took it, I wanted to bite, but I failed – your lips outstripped me … My arms wrapped around your neck and shoulders, and minutes later I saw that the most delicious brown cocoa was flowing into you fluid of the world … Spring is it? The sun is rising and the degree is rising …
Now, as I looked at the river, I saw again the narrow brown streaks of glitter, spilled and blended into the remaining multicolor of light immersed in the eternal water …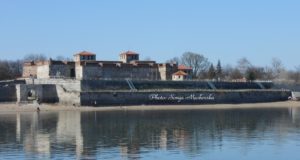 It's spring! … It's early! Full of love and sweetness!